A Competition for Singers
WHO CAN ENTERTAIN
Saturday, March 19, 2022 Entry Forms available, October 2022
215 WEST MICHIGAN, JACKSON, MICHIGAN 49201 (517) 782-3221
Sponsored by the JACKSON SYMPHONY ORCHESTRA
A Competition In Which Operatically Trained Singers Prove They Can Entertain
The Harold Haugh Light Opera Vocal Competition was formed to honor one of the finest Oratorio Tenors and stage performers of the last century, Harold Alberto Haugh. Upon retirement in 1960, he became active in local theater and starred in six productions for the Comic Opera Guild. Educator (for 34 years) and performer, Prof. Haugh died in 2000, aged 94.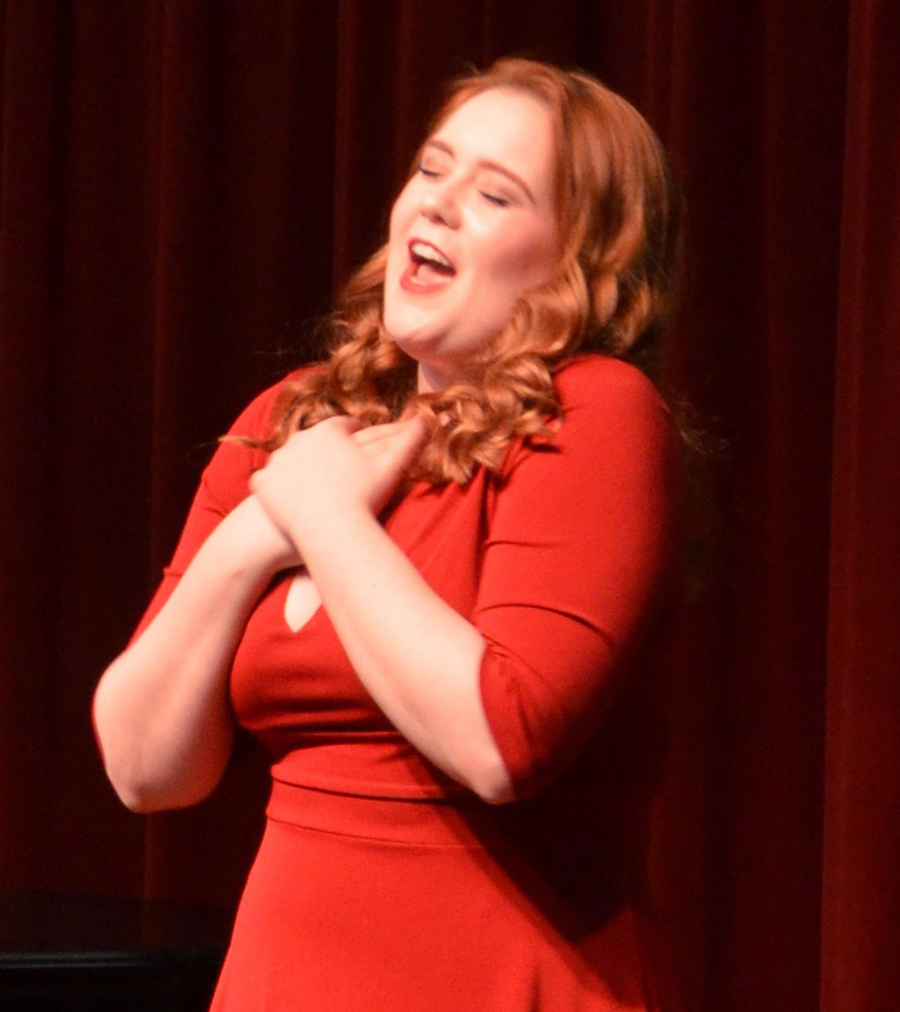 The Harold Haugh Light Opera Vocal Competition has no top age limit. It is open to all singers who are not professionally represented (under management) and who have not worked full-time as a professional singer. The competition is also intended to promote the variety of fine music produced by the composers of Light Opera. Singers can choose music from light classical sources that provide them a means to show their acting ability.
Singers will submit a vocal recording to be chosen to compete in the Semi-Final Round, in which they will sing two selections: one from LIGHT OPERA and a technical number of their choice.

The goal of the competition is to reward singers who demonstrate that they can act as well as sing. The challenge to the singer is to choose the right numbers to perform: a good technical number and a light opera selection that shows their acting ability to the judges.
Many classically trained singers are not as familiar with light opera as they are with grand opera. For a list of Light Opera Showstoppers, CLICK ON THE LINK BELOW.
TO APPLY WHEN 2022 FORMS ARE AVAILABLE
Download the Application Instructions PDF below to understand the competition rules. When ready, use the entry form, digital or paper, and submit it with the following materials by FEBRUARY 18, 2022:
A good quality CD or MP3 recording, demonstrating the applicant's vocal skill. Applicant must include two selections on the recording. The selections should be:
1. A song or solo from the light opera repertoire
2. An aria from opera or oratorio
Selections must be well-recorded and clear. A poor recording will be rejected.
A recent head shot (8 x 10 preferred, 4 x 6 acceptable)
A check for $45 made out to the Comic Opera Guild, as an audition/application fee and guarantee of appearance.
PIANIST OPTION: Add $55.00 and copies of sheet music of your musical selections if you will require the services of a Guild accompanist.
Click link below to download Application PDF and Entry Form
DIGITAL SUBMISSION (Option 1)
Go to the url shown on page 5 of the Application Instructions to submit all the above materials electronically
MAIL-IN SUBMISSION (Option 2)
Print out and complete entry form (Page 5) of the application pdf
Send form, photo, recording and check in a single envelope to:
Harold Haugh Light Opera Vocal Competition
c/o The Comic Opera Guild
3211 Packard
Ann Arbor, Michigan 48108
All submissions must be received (postmarked, if by mail) by: February 19, 2022. Late or incomplete applications will not be considered. Contestants' recordings will be adjudicated, and contestants will be notified by mail, or e-mail if they desire, if they have been accepted for the semi-final rounds by March 5, 2022. Audition times are assigned on a first- come, first-served basis.
Prizes will be awarded (by check) from the Harold Haugh competition fund. Prize money has been increased: First place-$3,000. second place $2,000, 3rd place $1,000. All finalists will win $300. In addition. there is a $300 Young Artist award and the $300 Audience favorite award. Please note that the last three awards are independent of the main cash awards.
All entrants, including those not chosen for the semi-finals, will be mailed comments. Finalists and semi-finalists will be critiqued by an adjudication panel. Singers will be judged on both vocal technique and artistic presentation.
The contest will be judged by professional singers and educators.
Melanie Helton is professor of voice (soprano) and director of the MSU Opera Theatre at the Michigan State University College of Music. She has sung leading roles with the New York City Opera, Seattle Opera, New York City Opera, Teatro de Colon, Santa Fe Opera, Houston Grand Opera, Dallas Opera, Glimmerglass Opera, Washington Opera, and San Francisco Opera Center.
Thomas Petiet, baritone, Managing Director of the Comic Opera Guild, has produced more than 50 operettas. His vocal repertory includes lead roles in over 30 operas and operettas, and he has also worked as stage director and translator.
Nada Radakovich earned her living as a professional singer for 25 years in both the United States and Europe. She is co-author of the book, "Auditioning in the 21st Century". Nada completed two National Tours with Columbia Artists' Community Concerts series and was the recipient of the "Outstanding Young Artist Award 2001," Hamburg, Germany.
David Troiano, tenor, organist and choral director, has appeared in operas, oratorios and voice recitals throughout the USA, Canada, Mexico, Bahamas, and Europe. He has been COG music director for five operettas and can be heard on the majority of the 40 plus recordings of the Victor Herbert Operettas and Jerome Kern Musicals.
Robert Peavler serves as Professor of Voice and coordinator of Voice Activities at Eastern Michigan University. Dr. Peavler is the co-author of The Melodies of Francis Poulenc: A Study Guide (Scarecrow Press) and can be heard on his recording of American art song, From the Heartland (Albany Records- TR1349). He has presented his research at State, Regional, National and International conferences of NATS and the College Music Society.
Louise Toppin, soprano, has appeared in recital on many concert series including Carnegie Hall, Merkin Hall, Kennedy Center, and Lincoln Center. Her opera roles include: the title role in the world premiere of the opera Luyala by William Banfield, Treemonisha in Scott Joplin's Treemonisha and the Queen of the Night in Mozart's Magic Flute, She most recently was contracted to sing Clara in Gershwin's Porgy and Bess for Baltimore Opera, Opera Carolina, and Piedmont Opera companies. She is currently professor of voice at the University of Michigan.
John Guidinger, Board Member
Brad Rondeau, Former President of the COG board, has also served as stage director and performer.
Heidi Miles, former COG Board member
Margaret Counihan, professional accompanist, has also served on the Board, as well as performing onstage.
Thomas Petiet, Managing Director
Light Opera as a genre stretches over at least three centuries. The subject matter is typically humorous, romantic or a combination of both, and usually not tragic. Light operas for this contest must have dialog. Not only is this repertoire more suited to lighter or younger voices, but, in the acting skills it demands, it is preparation for attaining the highest dramatic level of opera. It is set apart from musical comedy only in the need for classical training in the singer. For purposes of the competition, selections from musical comedy may not be as effective if they do not require operatic vocal skills. The Comic Opera Guild is a resource for sheet music in the light opera genre.
Sample composers of the genre are given below. Keep in mind that not all compositions by these composers fall into the light opera repertory.
GERMAN/VIENNESE: Johann Strauss, Oscar Straus, Franz Lehar, Franz Von Suppe, Wolfgang Mozart, Emmerich Kalman, Otto Nicolai
FRENCH: Jacques Offenbach, Adolph Adam, Ambroise Thomas, Francoise Boieldieu, Charles Lecocq, Robert Planquette, Daniel Auber,
ENGLISH: Gilbert and Sullivan, Wm. Michael Balfe, Edward German, Alfred Cellier, William Shield, Leslie Stuart
AMERICAN: Victor Herbert, Sigmund Romberg, Rudolf Friml, Jerome Kern, John Philip Sousa, Louis Hirsch, Fritz Kreisler, Karl Hoschna,
SPANISH: Ruperto Chapi, Tomas Breton, Jose Serrano etc.
If you have questions about a selection, you may inquire by contacting the Guild at (734) 973-3264 or at comicoperaguild@gmail.com
2000 COMPETITION WINNERS
Gary Moss, baritone "Oh, Better Far" Pirates of Penzance (Sullivan)
Marcia Porter, soprano "Meine Lippen..." Giuditta (Strauss)
2001 COMPETITION WINNERS
Michael Ryan, tenor "Fritz's Rondo" La Grande Duchesse (Offenbach)
Pei-Yi Wang, mezzo-soprano "Una Voce Poco Fa" Barber of Seville (Rossini)
2003 COMPETITION WINNERS
Michael Gallant, tenor "Kleinzach" Tales of Hoffman (Offenbach)
Jessica Medoff, soprano "Czardas" Die Fledermaus (Johann Strauss)
2005 COMPETITION WINNERS
William Bennett, baritone "Largo al Factotum" Barber of Seville (Rossini)
Kimberly Dolanski, soprano "Glitter and be Gay" Candide (Bernstein)
2006 COMPETITION WINNERS
Sara Asmar, soprano "Olympia's Song" Tales of Hoffman (Offenbach)
Nathan Brian, baritone "Come Un Ape" La Cenerentola (Rossini)
2008 COMPETITION WINNERS
Elizabeth Zharoff, soprano "Audition Aria" Die Fledermaus (Strauss)
Nathaniel Peake, tenor "Dein ist Mein Ganzes Herz" Land of Smiles (Lehar)
2009 COMPETITION WINNERS
1st– Travis Pratt, tenor "It Ain't Necessarily So" Porgy and Bess (Gershwin)
2nd– Adam Fry, bass "La Calunnia" Barber of Seville (Rossini)
3rd– Carrie Winter, soprano "Quel Guardo il Cavaliere" Don Pasquale (Donizetti)
Audience Choice Award Winner – Travis Pratt
Young Artist Winner– Janani Sridhar
2011 COMPETITION WINNERS
1st– Jenni Bank, mezzo-soprano "I Am Easily Assimilated" Candide (Bernstein)
2nd– Caitlin Cisler, soprano "Glitter and be Gay" Candide (Bernstein)
3rd– Kathryn Leemhuis, soprano, "What A Movie." Trouble in Tahiti (Bernstein)
Audience Favorite – Caitlin Cisler
2012 COMPETITION WINNERS
1st–Kate Tombaugh, mezzo-Soprano "Sexy Lady" (Moore)
2nd– Rainelle Krause, soprano "Olympia's Song" Tales of Hoffman (Offenbach)
3rd–John Riesen,tenor, and Laura Strikling, soprano (tie)
Young Artist Winner - Christian Ketter
Audience Favorite – Johnathan Riesen
Jackson Symphony Contract Winner – Kate Tombaugh
2013 COMPETITION WINNERS
1st– John Riesen, tenor "Story of Kleinzach" Tales of Hoffmann (Offenbach)
2nd– Anne Slovin, soprano "A Simple Sailor" HMS Pinafore" (Sullivan)
3rd– Timothy Bruno, bass, "Ha! Wie Will Ich Triumphieren" Entfuhrung aus dem Serail (Mozart)
Young Artist Winner - Katy Early
Audience Favorite - John Riesen
Jackson Symphony Contract Winner – John Riesen
2014 COMPETITION WINNERS
1st– Edward Hanlon, bass "Son Imbrogliato" La Serva Padrona (Pergolesi)
2nd– Rachel Sparrow, soprano "Glitter and Be Gay" Candide (Bernstein)
3rd– Alan Palacios Chan, tenor, "A Wand'ring Minstrel I" The Mikado (Gilbert & Sullivan)
Young Artist Winner - Yazid Pierce-Gray
Audience Favorite - Rachel Sparrow
Jackson Symphony Contract Winner – Isaac Frishman, tenor
2015 COMPETITION WINNERS
1st– Kisma Jordan, Soprano "Ach, Ich Fuhl's" -The Magic Flute (Mozart)
2nd– Heather Mc Callum, mezzo-soprano "Cruda Sorte" - L'Italiana in Algeri (Rossini)
3rd– Amy Louise Yekel "My Man's Gone Now" - Porgy and Bess (Gershwin)
Young Artist Winner - Kyle White, baritone
Audience Favorite - Rachel Sparrow
Jackson Symphony Contract Winner – Kisma Jordan,sopran0
2016 COMPETITION WINNERS
1st– Ashly Neumann, sop. "Italian Street Song" Naughty Marietta (Herbert)
2nd– Emmett O'Hanlon, bar. "Ha! Gia Vinta" Nozze di Figaro" (Mozart)
3rd– Josh Lovell, ten. "Ah, Mes Amis" Fille du Regiment (Donizetti)
Young Artist Winner - Ryan Hurley, ten. "A Wand'ring Minstrel" The Mikado (G&S)
Audience Favorite - Conor Angell, bar. "Oh, Better Far" Pirates (G&S)
2017 COMPETITION WINNERS
1st– Josh Lovell, ten. "Ah, Mes Amis" Fille du Regiment (Donizetti)
2nd– Katy Clark, sop. "Chacun le Sait" - La Fille du Regiment (Donizetti)
3rd– Paulina Villareal, mezzo. "Carceleras" - Las Hijas del Zebedeo (Chapi)
Young Artist Winner - Leah Brzyski, sop. "Me llaman la Primorosa" - El Barbaro de Sevilla (Gimenez)
Audience Favorite -Nicole Joseph, sop. "Vilja's Song" - The Merry Widow (Lehar)
2018 COMPETITION WINNERS
1st– Irina Medvedeva, sop., "Glitter and Be Gay" Candide (Bernstein)
2nd– Angela DeVenuto, sop., "Liebe, Du Himmel" - Paganini (Lehar)
3rd– Jessica Luffey, sop., "Czardas" - Die Fledermaus (Strauss)
Young Artist Winner - Jake Surzyn, bar., "Largo Al Factotum" - The Barber of Seville (Rossini)
Audience Favorite -Julie Gibreath, sop. "Poor Wand'ring One" - Pirates of Penzance (G&S)
2019 COMPETITION WINNERS
1st– Anna Montgomery, sop., "Adele's Audition Aria" -Die Fledermaus (Strauss)
2nd– Brian Major, bar,, "Stout-hearted Men" -New Moon (Romberg)
3rd– Isaac Frishman, ten., "Ah, Mes Amis" -Daughter of the Regiment (Donizetti)
Young Artist Winner - Madison Miller, sop., "Glitter and Be Gay" -Candide (Bernstein)
Audience Favorite -Rachel Blaustein sop., "Ach, Ich Liebe" -Abduction from the Seraglio (Mozart)
2020 COMPETITION WINNERS
1st– Catherine Goode, sop., "Glitter and Be Gay" -Candide (Bernstein)
2nd– Schyler Vargas, bar., "Largo Al Factotum" - The Barber of Seville (Rossini)
3rd– Lauren Nash Silberstein, sop., "Mein Herr Marquis" -Die Fledermaus (Strauss)
Young Artist Winner - Justine Alexander, sop., "Art is Calling for Me" -The Enchantress (Herbert)
Audience Favorite -Schyler Vargas
2021 VIDEO CONTEST WINNERS
1st— Sishel Claverie, mezzo, "I Am Easily Assimilated" - Candide (Bernstein)
2nd— James Young, baritone, "For I Am A Pirate King" - Pirates of Penzance (Gilbert & Sullivan)
3rd— Schyler Vargas, baritone, "I Am Adolpho) - The Drowsy Chaperone (Lambert & Morrison)